Electric or pneumatic instruments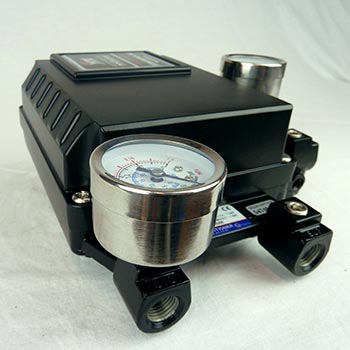 Electrical equipment is part of the accessories that can be integrated into the valves in order to make them more comprehensive and thus offer a more appropriate, controlled system. Italvalvole® supplies the series complete with positioners that allow for better control and regulation of the level of valve opening in a much more accurate and appropriate way.
The role of a positioner is based on the principle of equilibrium of forces, comparing the standard signal of a pneumatic controller with the stroke of the valve and transmitting a positioning amplified pressure to the valve's servomotor. The series of ITV positioners is available in both rotary positioners as well as linear positioners that are selected according to the type of valve to which it will be applied. The pneumatic, electropneumatic or SMART version is available for each model. Thanks to the special assembly kits and the arrangement of the valves, all the positioners are easy to install.
As is usually recommended, a reducer Series ITV200A filter is associated with each positioner, which is specially designed to power the entire measurement, adjustment and any pneumatic equipment that you wish to supply with clean air that is controlled at a certain pressure.
It is also possible to integrate the Box 2 Micro on the rotating actuators simply and directly, which consists of a device equipped with two electromechanical sensors that transmit signals when the valve is opening and closing. In addition, there is a display device in the upper part of the box that constantly indicates the valve's condition (open or closed).
A full range of electrode level probes for conductive liquids that operate on a resistive principle is also available; they come in different models (a variable insertion length, fixed or fixed with reduced connection) and are supplied with an insulated electrode.
Lastly, all the actuators for shut-off valves can be equipped with various accessories to meet the customer's many needs. They can be equipped with stroke adjuster, electric limit switches, magnetic or inductive sensors, solenoid valves and emergency handwheels.