Actuators and cylinders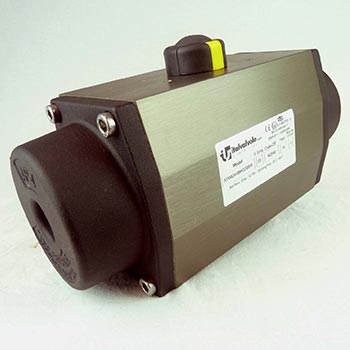 Rotary actuators may be found in the pneumatic or electric versions. They are mainly used in the motorisation of ball valves or butterfly valves; in effect, very often, due to special requirements, a manually operated valve must be mechanised and, thanks to a suitable dimensioning, this can be done on a valve which was previously handled manually by a lever or gear.
As far as the Italvalvole® pneumatic line is concerned, it offers the range of ITAL Series rotary actuators which is the ideal solution when the implementation of every type of rotary valve is needed. Made of anodised aluminum, they are also suitable for outdoor use and are coupled to the valve with a "rack and pinion type" system. The junction holes with the valve body comply with ISO 522/DIN 3337/VDI VDE 3845 standard. They are available both as single effect rotary actuators (spring return) as well as in the dual effect version.
There are Series ITVJ3 multi-voltage rotary actuators with 90° angle rotation for the power line that represent the real revolution in the reversible electric actuators sector in terms of product reliability and completeness.
They are multi-voltage electrical "full optional" actuators incorporating the following standard equipment: automatic temperature control, automatic voltage calibration sensor, torque stress limiter, emergency manual control and end stroke contacts. Available with different torques, they are the answer to all automation needs for ball, butterfly and damper valves.
There is the complete series of pneumatic cylinders for specific applications with good resilience and manufactured both in anodised aluminum as well as entirely in stainless steel, available in magnetic, non-magnetic, dampened and non-dampened versions as well as both simple and dual effect.