Shut-off valves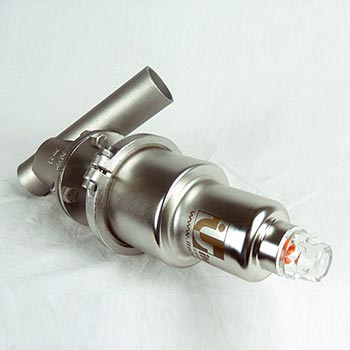 Shut-off valves, also known as on-off valves, are devices used to intercept industrial process fluids. They are made of a variety of materials, depending on the conditions of pressure, temperature and compatibility with the fluids being conveyed. The most commonly used materials for the valve bodies are grey iron and ductile iron (GJL 250 and GJS 500), carbon steel (WCB) and stainless steel (CF8M).
The valves have been devised and designed so as to optimise the maximum flow rate and the Kv, and reduce the load losses as much as possible. Globe valves are made with 2 or 3 ports, with square body, angle seat and conveyed flow. They are installed in standard process industries, for example in the dyeing industry, the textile industry, in the chemical industry, in thermoregulation processes and in food and pharmaceutical applications.
The range includes the pneumatically operated version, which, by means of a pneumatic actuator, with simple spring return or dual pneumatic effect, allows the shutter to open and close, thus intercepting the process fluid. There is also a manually operated range thanks to which the valve opening is adjusted by turning a handwheel.
The stem seal is guaranteed by stuffing box packs in PTFE + graphite loaded PTFE, while the materials of the cut-offs can be AISI 304 or AISI 316 and with metal sealing cap, stellited, PEEK, EPDM, PTFE and Teflon coated EPDM, selected according to the required degree of sealing (UNI EN 12266-1) and the maximum temperatures reached (up to 300°C for diathermic oil applications). The commonly intercepted fluids may be dyeing baths, glycol, steam, superheated water, chemical solutions and fluids in general.
The valves are designed and manufactured according to 2014/68/EU Directive with connections in accordance with EN 1092 (PN 16 and PN 40 flanged) with threaded attachments, butt welding or socket welding. Such products can be equipped with accessories such as inductive, magnetic sensors or microswitches for opening and or closing for a valve control with greater performance. The application of a positioner or electropneumatic commands is also possible so that the valve action becomes "modulating".
Furthermore, Italvalvole® is constantly carrying out research into, and developing, its range of products as well as offering the possibility of producing valves following the detailed technical specifications expressed by the customer.